Welcome to Point Pleasant Tree Service
A family-owned and operated business, Point Pleasant Tree Service, LLC is dedicated to helping your trees remain healthy while preserving their natural beauty. Working with residential and commercial customers, our company provides an all-inclusive selection of quality solutions designed to assist clients in maintaining well-groomed trees and properties.
Live Tree Services
We offer tree pruning to promote new growth as well as to shape your trees for a better, more balanced appearance. Our tree maintenance schedule is designed to care for your trees, keeping them healthy and beautiful. We also provide deadwooding services, which features the removal of dead branches and twigs in order to keep your family safe when they walk about your yard.
Tree and Stump Removal
Our tree removal services provide a smooth takedown of trees of all sizes. Stump removal and grinding services features the breakdown of tree stumps below ground level in order to allow you to reclaim use of this area as well as complete removal to enable replanting.
Clearing and Cleanup
Whether you are looking for partial or full clearing of your land for development building or personal use, we can handle it for you. Our company also completes emergency and storm damage cleanup after a storm damages trees in your yard. These services are available as full or partial cleanups.
Miscellaneous Services
We offer wood chipping as an easy way to remove brush and tree debris from your property. Plus, we offer quality seasoned hardwood cut to suitable lengths and delivered to your location for firewood.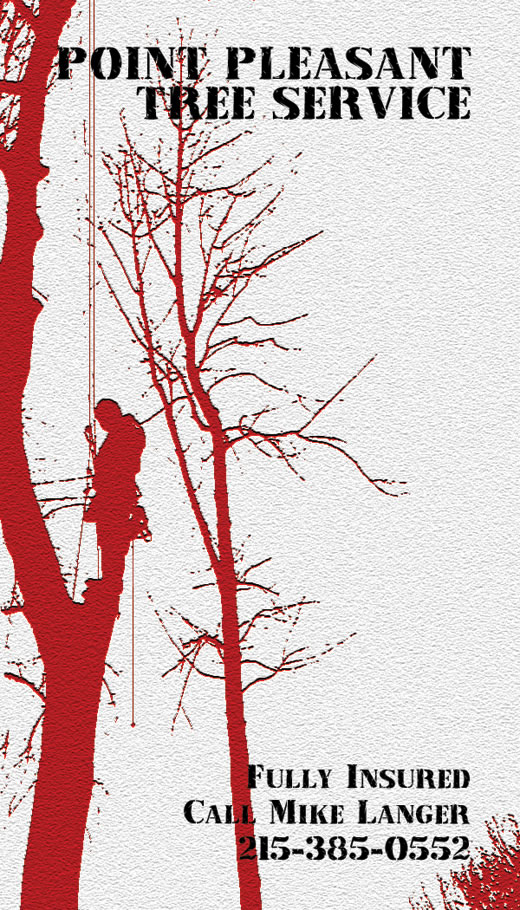 POINT PLEASANT TREE SERVICE, LLC
4755 Tollgate Road
New Hope, PA 18938
Tel 215-385-0552
Email

We now accept...